The efficacy of Eroxon has been demonstrated in two Phase 3 trials in 300 men with mild, moderate, and severe ED.
The first (FM 57) was a 12-week multi-centre double-blind trial in 250 men who all used Eroxon®. Before using the therapy, participants were monitored for four weeks to establish the extent of their ED. This was measured using three internationally authorised measures: IIEF-EF, SEP2 and SEP3.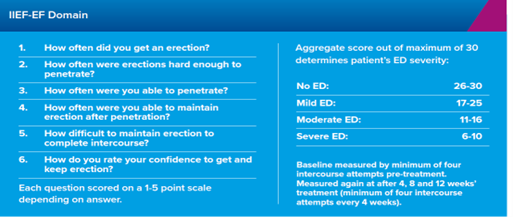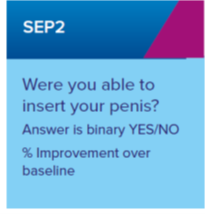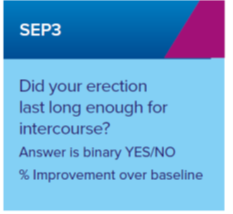 Efficacy improved after the first dose and men achieved an erection within 10 minutes in 60% of applications. There were 3,792 intercourse attempts and two-thirds (63%) of men achieved or exceeded the Minimal Clinically Important Difference (MCID), which is the benchmark for a meaningful response.
The speed of onset was significantly faster than oral PDE5i medicines, which typically start to work within 30-60 minutes.
At 12 weeks, men using Eroxon showed significant improvement from baseline across all measures, with the response increasing in line with the severity of their ED. Four in five (80%) of those with the most severe ED met, and in some cases exceeded, MCID. In men with moderate ED, 59% met or, again in some cases, exceeded MCID and in those with mild ED it was 61%.
Reported side effects were minimal and significantly lower than those typically associated with PDE5i medicines.
SEP 2 AND SEP 3 PERFORMANCE IN FM57 ACROSS DOSES 1-6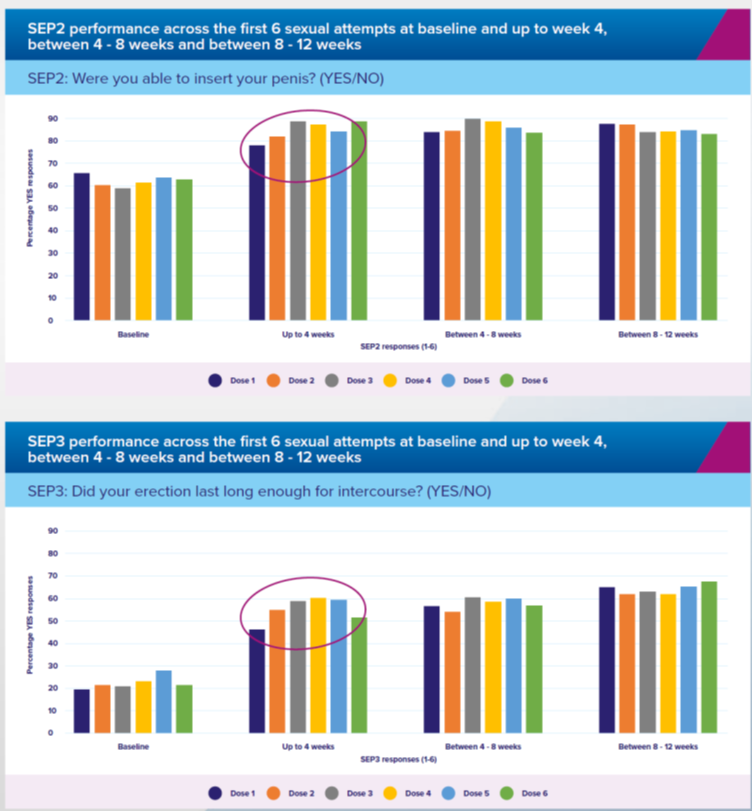 The second Phase-3 trial (FM71), was a 24-week study designed in accordance with feedback from the FDA to rule out any 'placebo' effect. It included a head-to-head comparison with tadalafil (5mg), which is widely used in the United States.
Results were presented at the European Society for Sexual Medicine (ESSM) Congress in 2023.
FM71 showed Eroxon achieved MCID in 61% of patients with ED at 24 weeks (1,551 intercourse attempts); with 55% of those with mild ED; 51% of men with moderate ED and 87% with severe ED achieving this clinical goal.
Efficacy increased over the course of the trial and far fewer side-effects were reported by men using Eroxon than those using tadalafil.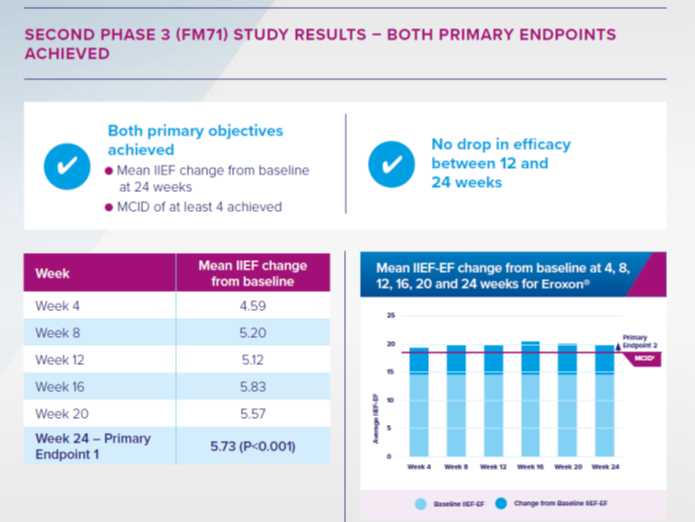 On the basis of this clinical evidence, Eroxon has been approved in the EU and UK as the first clinically proven OTC topical treatment for ED, and can be bought without the need for a prescription.